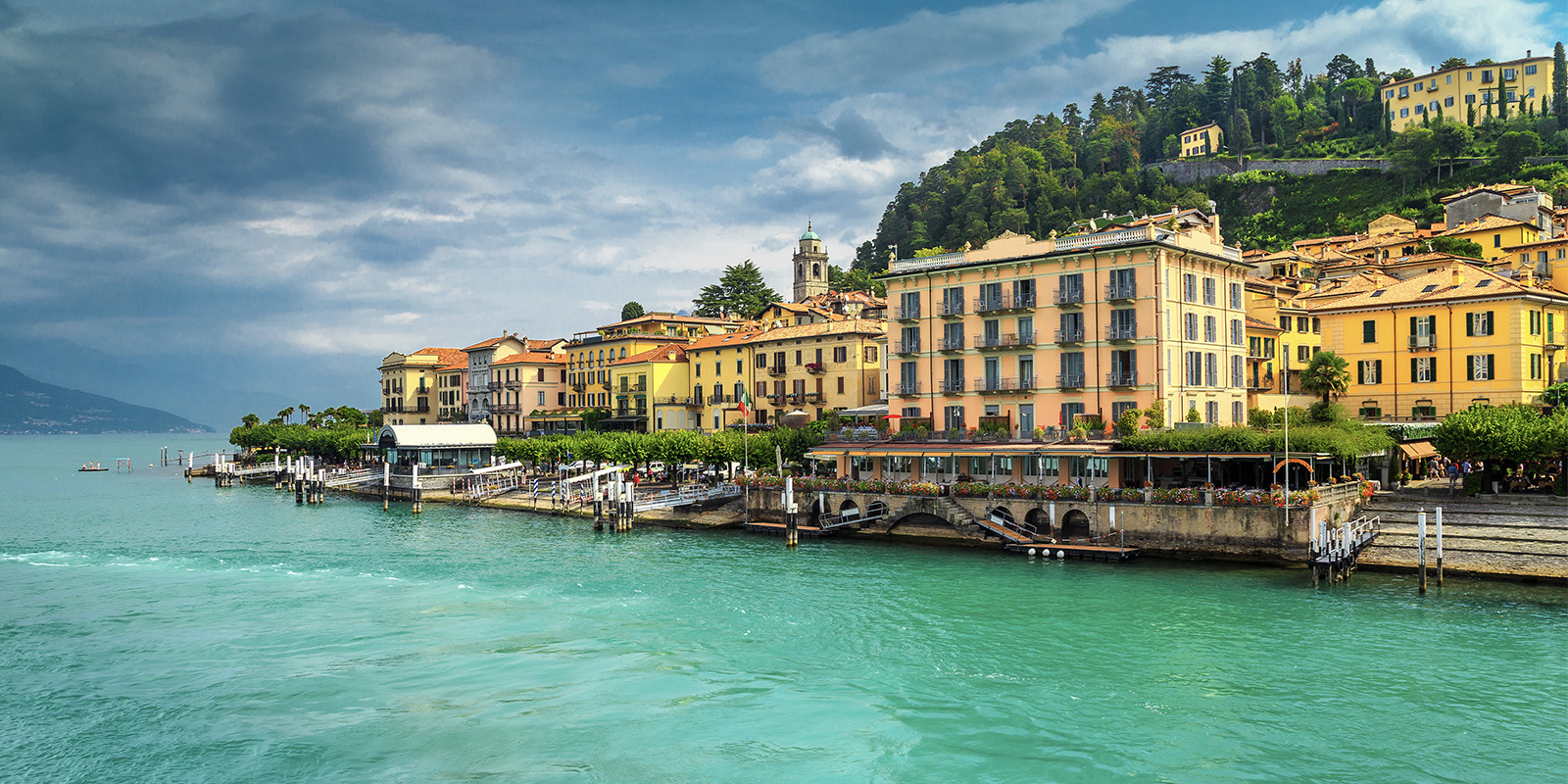 Bellagio – The Pearl of the Como Lake.
Bellagio – The Pearl of the Como Lake.
Bellagio is anelegant tourist resort on Lake Como. It is situated on a hilly promontory between the southern branches of the lake. This tiny village, also known as the Pearl of Lake Como, is a wonderful destination to spend a romantic holiday.
This is because of its endless lovely views, gardens, classy boutiques, restaurants, and picturesque lanes.
Walk on picturesque streets

Apart from being a lake resort with an attractive location, there is a lot to see when you take a tour around the streets.
A passenger ferry stops alongside a waterfront lined with trees. From here, there is an arcade across with restaurants and cafes. You can get shade and shelter before going forward.
Other more "touristy" cafes are on the right once you disembark from the boat. You cansit on a lakeside terrace and enjoy some fancy ice cream while watching boats pass by. Not very far from here are the Villa Melzi gardens.
Take a culinary tour
Bellagio has good restaurants targeting holidaymakers. You can enjoy delicious meals including various pasta dishes. There are various eating places with friendly waiters and nice extras. You should not miss out on Lake Como's local specialty, Risotto with fried perch.
The restaurants have a particular homely atmosphere to enjoydelicious meals.
Hamlet of San Giovanni di Bellagio
Just 25 minutes' walk from the town center is this private museum of navigational instruments. Well, just like works of art, the exhibits here are incredibly beautiful.
You'll enjoy checking out the tools that made it possible for explorers to get back home again.
Have a romantic holiday
Have you been planning a romantic getaway for some time? You shouldn't underlook Bellagio. It ranks high when searching for romantic spots on Lake Como. The location is also ideal for special events including weddings, reception, or honeymoon.
Go on a boat tour
You can't miss a boat excursionwhile in Bellagio. Its position at the tip of the central promontory of Lake Como allows taking a boat ride to opposite shores. You have to book a single-day boat ticket for a ride on the central part of the lake.
The boat tour can take you to various locations near Bellagio. On the eastern shore isVarenna and Villa del Balbianello on the western shore. You should also check out Menaggio for its attractive seafront promenade and Tremezzo to see the terraces of Villa Carlotta.
The boat cruise is very interesting while passing grand villas on the lakeshore.
Ride the Bellagio Express
This little tourist train is another opportunity to enjoy what Bellagio has to offer. The train usually operates between May and September.
Apart from helping you save time, you can hop on and off at various locations. The train comes in handy to explore locations such as Visgnola, Pescallo, and San Giovanni.
Hit the beach
You can't miss going for aswim in Bellagio. To have the most unforgettable experience, check out Lido di Bellagio beach club. Apart from the sandy beach, there's an outdoor swimming pool offering beautiful views of Lake Como.
Take a Wilderness Walk in the Devil's Bridge in Bellagio
Lezzeno Village is close to Bellagio. However, few people know about it. therefore, it's a unique location that you should visit. The locals say witches always felt comfortable here. You should go and experience on your own how it actually looks like.
When you check theDevil's bridge, you may quickly believe what people say about it being a comfortable location for witches. The bridge is suspended and is the first place you see as you proceed with your walk. Besides, the landscape is breathtaking.
During the walk, you can enjoy the hidden sections of Lake Como. Besides, you can view the surrounding villages. It's a tour that you shouldn't miss when you visitVilla del Balbianello.
How should you prepare for a tour of this location? Ensure that you have comfortable shoes for easy walking and hiking. Carry enough water and rain gears in case the weather fails to cooperate. You should also visit this place early as you need at least two hours for the walk.
Villa Melzi Gardens
Despite not having the same historic significance as Villa Serbelloni, the sloping gardens of Villa Melziare worth checking out. These are home to various camellias, azaleas, and rhododendrons. A nobleman built this villa during the Napoleonic era.
There is a little orangery museum with a collection of various mementos, archeological oddments, and church frescoes. The most outstanding features of thegardensare the shady water garden and little blue-roofed pavilion on the water's edge. Luigi Villoresi and Luigi Canonica are the designers of these gardens.
Access to the garden is through two entrances. One is near the waterfront and the other passing through the gardens. Each of the routes is full of interesting cultural, historical, and artistic features.
Villa Serbelloni
This grand building sits on the Bellagio promontory with grounds enclosing the wooded hill.Villa Serbelloni is a luxury hotelowned by the Rockefeller Foundation. Although the public can't access the interior of this building, you can visit the 50-acre park and gardens. There's no better way to begin a holiday in Bellagio.
With the villa's grounds looking out over the lake, expect panoramas not possible from the town. Apart from the views, look forward to seeing various flowerbeds, botanical plantings, and ornamental features in the water.
Tour Punta Spartivento
The endpoint of the peninsula where Lake Como splits into two is Punta Spartivento. This place offersendless Insta-worthy moments.
The spectacular views of the towns on the shores of the lake and the snowcapped mountain are hard to miss. There's a restaurant from where you can enjoy a drink while admiring the beautiful views.
Final words
When planning a holiday in the Lake Como area, a visit to Bellagio is worth a try. There's so much to do and see to give you apleasurable experience.